As the Earth begins its 2011th revolution around the Sun since Baby Jesus was born, I'm following the sage advice of Non-Conformism personified, Mr. Chris Guillebeau, and conducting a review of my life as Fly Brother during the year that was.  I hope to use the experiences and interactions – positive and negative – that I accumulated in 2010 as markers along the flight path for 2011, as I fly higher and farther in the pursuit of professional and personal development.  Based on last year's review, 2010 ended with about half of my planned objectives realized, and a few major and unexpected directional changes that occurred mid-flight:
Last year's goal #1: A deepening and diversification of what you can find here at Fly Brother. I completed (well, almost) two seasons of podcasts, featuring commentary on travel, history, and culture as well as some of my favorite music.  The episodes started out a bit long-winded, but for the second season, I found a format that proved more useful to my audience, offering succinct variety that maintained the listener's attention far better than before.  I also increased the number of blog posts I wrote for a few months during summer vacation, before admittedly dropping the ball as I transitioned, stressfully, from one job and one city to another.
I did not, unfortunately, schedule any interviews for the podcast (decent-but-hardly-state-of-the-art-technology coupled with a tumultuous personal life) nor did I succeed in monetizing the blog through affiliate sales or my own products.  This will change, I ga-ron-tee, in the coming year.
Last year's goal #2: An increase in overall presence and name recognition. With limited fanfare, I officially launched Fly-Brother.com in June, the sharp, slick WordPress replacement for the Blogger site that I happen to like a lot (WordPress, not Blogger).  Below are the statistics for the last six months (since I only transitioned to WordPress in June).
The stats helper monkeys at WordPress.com mulled over how this blog did in 2010, and here's a high level summary of its overall blog health: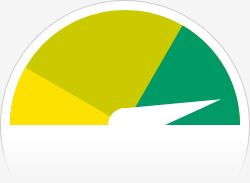 The Blog-Health-o-Meter™ reads Wow.
Crunchy numbers
The average container ship can carry about 4,500 containers. This blog was viewed about 17,000 times in 2010. If each view were a shipping container, your blog would have filled about 4 fully loaded ships.
In 2010, there were 97 new posts, growing the total archive of this blog to 238 posts. There were 384 pictures uploaded, taking up a total of 97mb. That's about 1 pictures per day.
The busiest day of the year was July 26th with 338 views. The most popular post that day was Fly Favorites.
Where did they come from?
The top referring sites in 2010 were fly-brother.blogspot.com, facebook.com, stumbleupon.com, clutchmagonline.com, and monaga.net.
Some visitors came searching, mostly for fly brother, james bond, errol barnett, isha sesay, and dr. william p. foster.
—————–
This year, I served (barely) as a featured contributor at the witty and acerbic Desonesto Doctrine, and had a short essay published in the e-book anthology Celebrating Latin America at Ground Level (download it free!).  I also tweeted more frequently, though that was still maybe a scant 5 or 6 tweets per week.  I'm working on my aversion to tweeting about each time I pick my nose or poop so I can get a better handle on the whole social networking thing.
I haven't, as of yet, created fan pages on Facebook or MySpace, and I've certainly not had the time to write many articles, let alone ship them off for publication somewhere (where they'd probably get trashed anyway).  My email response time: total fail.
Last year's goal #3: A shorter, yet exhilarating list of international destinations for the coming year. Very short, yet still pretty exhilarating, I started off the year freezing in Miami and Key West for New Years (hell, 2009's freeze seemed to be downright balmy compared to 2010's) before jaunting off to San Francisco for my first official Fly Brother meet-up and always sassy Tallahassee while I awaited my work visa from Brazil to be approved at the beginning of the year.  Finally, in March, I moved to Brasília to take my position as the new English professor of an international, bilingual high school.  During holidays, I popped over to colonial Pirenópolis or prairie boomtown Goiânia to get a good look at the heart of the country, or up to Recife or Rio for some tropical soul.  I hit São Paulo about a hundred times (ok, more like six) and New York in the summer.  And in October, I had the opportunity to chill in fantastic Berlin for three weeks, visit my first small European village in the guise of charming little Güstrow, and even scrounge up a refreshing weekend in neighboring Warsaw with one of my best buds.  Not exactly a community service project in Haiti, or a four-hour hop to Buenos Aires, or a trip around the world via the Southern Hemisphere, but still fly.  Oh, and I drove my car, Negrita, along 680 miles of halfway-decent Brazilian highways from Brasília to São Paulo in one day.
The unexpected events of 2010, however, were the most impactful: leaving the teaching profession mid-year to take some time off, then taking a job at Time Out (infinite thanks, Lola and Julie!), in essence becoming a Journalist, as opposed to a mere Writer.  The subsequent move to São Paulo, a city that's been on my to-live list for five years now.  The connections I made with fellow bloggers this summer at the Travel Blog Exchange conference in New York.  The friendships I forged via my old job and CouchSurfing in Brasília and Sampa.
The loss – the freezing, rather – of certain friendships that at one time had been the truest and bluest, mostly related to said friend(s) now being married.  The extremely unfortunate and ill-timed appearance of bed bugs in a country ill-equipped to manage them, and the related, severe, and abnormal allergic reaction to them that I've had for a month now, sidelining my workouts and deeply impacting my finances, ending in a forced, unexpected change of address.  The startlingly strong sense that, despite everything, my move to São Paulo was nothing short of necessary and timely, evidenced in random eurekas that cumulatively communicate my love for this place.
2010, Year of Transition, closed on a battered, but energized Fly Brother.
2011 begins as the Year of Consolidation.  It's time to get my house – or hub, as it were – in order.
1. The Day Job – In spite of sometimes tortuous hours, virtually zero vacation time, and a salary that encourages moonlighting, I love my job: brainstorming for story ideas, interviewing interesting people, reviewing off-the-wall places, diversifying my writing portfolio, honing my journalism skills, holding the finished product in my hand.  This year's goal is to ensure Time Out São Paulo upholds the strong international brand name by providing content that's engrossing, entertaining, and intellectual.  I have a direct hand in that process and my name don't go on no foolishness.
2. Fly Brother – This year, monetization and completion are the key words for the website and the travel brand.  New sections of the site will be coming online within the next few months and I'll be posting new content twice a week.  As the aforementioned Day Job does not allow for extended academia-style vacations, Fly Brother has turned into Interminably Delayed Brother; that means many of the posts will be Sampa-centric, but a) that's not necessarily a bad thing at all and b) I'll strive to limit material referencing Brazil to 40% of the overall content of the site.  The social media fan pages will be finished by the end of the month and emails will – sigh – be responded to on time.  I also probably just need to break down and get a damn iPhone.
3. Traveling – Lack of true vacation time means destinations relegated to the five-hour flight zone: Buenos Aires, Santiago, Salvador, Florianópolis, Porto Alegre, Vitória, and, of course Rio.  Still, I'm in the financial rebuilding process and my job is to know São Paulo in and out.  That means, for the next six months at least, a moratorium on all non-essential travel for Fly Brother.  That doesn't mean I'll not be going anywhere for six months, but sometimes, you have to stay put for a while so you can move forward when the time is right.  It's still too early to speculate what the second half of the year will bring, and that's okay.  But this will be my first bout against my natural and craven wanderlust, so pray for me, y'all.
4. Relationships – I used to be really good at staying in contact with the important people in my life.  I also used to be very insecure about relationships – platonic or otherwise – because I did have a childhood/adolescence with fucked-up interactions between my peers and I (if I had telekinetic powers, many a high school gym would have burned to the ground in the early 90s).  Needless to say, I've taken off for a life overseas while many of my friends have forged ahead domestically, building families and strong ties to the communities in which they live.  It's easy to say, "well, phone lines work both ways," but with me being the one out of sight, the one who chose to be out of sight, that is, sometimes I have to swallow a bit of pride and reach out to friends and valued acquaintances with whom I haven't spoken in a while, just to recharge the friendship (if I truly value it, after all).  And despite many elements of my life being currently unsettled, I have to make the time to do it.  I have a rack of miss you and thank you emails I need to get cracking on, and being more rapid in my response to emails from friends or fans is a must in 2011.  Besides the clichéed but true mantra of people being in your life "for a reason, a season, or a lifetime," you never know when you'll see someone last.
5. Hubbing – Not since moving to Washington in 1999 have I felt such a strong connection to the place in which I'm living.  The incessant buzz of São Paulo, the constant exhilaration – traffic, shitty service and all – enchants, intoxicates me.  Here, I can engage with and actualize every element and facet of myself.  I fucking love this place, and I'm reminded of it in numerous little ways every day, just like when you're in love with a person.  This could be the beginning of a beautiful relationship between Sampa and I, especially since I'm open to the relationship.  I could easily exchange my rent payment for a mortgage by the end of next year.  And I'll give myself that long to see if me and SP are for keeps.  Besides, Fly Brother's been in need of a permanent hub for a while, now.
So, folks, I'm entering 2011 with itchy, red welts due to bed bugs that bit me weeks ago and a heart and mind full of positive energy and, dare I say it?, optimism.  Something tells me 2011 is about to be off the hook.  Happy New Year!
Higher.  Farther.
What about you?